About Us
Background & Profile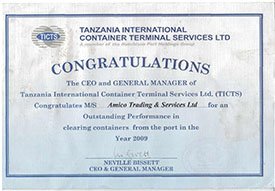 Amico Tading & Services Limited is a Tanzanian clearing and forwarding firm specialised in importation and exportation services. It was established in 19999 to motivate innovation in transportation nd cargo handling at international standards.

We are driven by the solid combination of flexibility, speed and innovation to offer reliable and efficient services from freight shipping including land, air, sea and door to door delivery.
---
Our Vision
To become the market leader in specialised cargo handling and transportation in East and Central Africa.
---
Our Mission
AMICO concentrates on the end result of timely and risk free delivery and therefore approach every individual client requirement with utmost flexibility. We are driven by the desire to exceed customer expectations by engaging the client in every step. We have developed a strong global network to support worldwide distribution and supply chain management. Over and above, we are committed to building long term customer relationships and increase lifetime customer value